Experience of Accutane
I was fifteen when my doctor referred me to a dermatologist after having tried various acne medications that seemed to have no effect on my skin. During my first appointment we talked about my medical history then he took a look at my face and back. I also had bacne. He then went through a list of treatment options including Accutane, antibiotics and birth control, informing me of the pros and cons of each one.
I decided to go with Accutane as it seemed like the only guaranteed way of permanently getting rid of my acne and I would only have to take it for 4 months (note that the length of treatment time can vary from anywhere between 4 - 8 months, depending on the extent of your acne and the dosage of the tablets). Before I left I had to take a pregnancy test as Accutane is known to cause severe birth defects and must not be taken if you are pregnant or are planning to be in the near future. I was also told I would have to take a blood test before my next appointment to check that things such as my liver are functioning normally, in order for me to be able to take the drug, and was also informed that these tests would be a regular thing.
At my next appointment, my results from the pregnancy and blood test were given. As everything seemed okay, I was given my month long prescription. I took them every day with a meal and after the month ended, I would come back for another appointment where I would have to take another pregnancy test, and a blood test beforehand to see if I had any side effects. After checking my results, he would give another prescription for the next month and after they had finished, the cycle would repeat itself.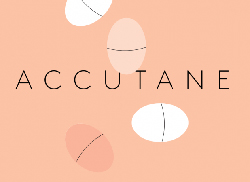 One of the side effects I was most worried about was the possibility that Accutane could cause depression as I already suffered from anxiety which I kept quiet from everyone (I don't recommend doing this but I had my reasons) so was afraid I would be more prone to this side effect. I did a lot of research and found that this side effect wasn't a common one, which seems to be true as I didn't notice any mood changes. However, the side effects that are common, and that you will mostly likely suffer from are dry skin, dry lips and dry hair (basically, dry EVERYTHING). I seriously had to moisturize like crazy, day and night, to stop myself from looking like a flaky mess. Also, due to my drier hair, I noticed a larger amount of hair loss and no matter how much coconut oil I applied, it just kept on falling. Don't worry though, I didn't have chunks of hair missing and the side effects stopped soon after my treatment was over.
Despite the constant blood tests (I'm not a fan of needles), the dry skin, and the hair loss, I can say that those 4 months completely changed my life for the better. At the end, my skin was so clear that I didn't even get period pimples! Although I still had my scarring left, it felt amazing to know I could just focus on trying to get rid of them, without having new spots popping up. It's been over a year now and my bacne is still non-existent, however, I have started to get some new breakouts.
They're not as bad as before but unfortunately, they have left some scars and won't seem to disappear completely. It was such a shock after having clear skin for a long time, that I almost felt like giving up trying to tackle this. I had no money to waste on unnecessary products and didn't want to keep being disappointed. Since my skin started having a huge effect on my self-esteem and I noticed my anxiety getting worse, I knew that couldn't just mask the problem with foundation, so I've cleaned up my diet, cutting down on sugar and dairy, which did seem to decrease the breakouts. I'm also following a decent skincare routine, but am saving for better one so I can work towards getting my skin back to how it was after Accutane.
Comments
I used Accutane under the supervision of a doctor, the skin has changed, three years have passed, the skin is still clean. Long searched, where to buy Accutane most profitable. And I found an excellent pharmacy. I really liked the terms of delivery. Ordered, delivered quickly, while checking the parcel carefully examined. The price is also cool, cheaper than in other pharmacies.
Rishika
October-05-2017
Developers of the drug Respect! It's a pity that I learned about this drug so late and then from the Internet. Doctors prescribe to patients all kinds of nonsense, which are crowded with pharmacies and shops. Is it possible to cure all sorts of rubbish, lotions, masks, that comes from within the body? I suffered from purulent acne for 45 years and only got rid of them at the age of 59 due to this drug.
Linda
October-07-2017